Join us on October 12th, 2022 - Bluebridge (Ostend, Belgium)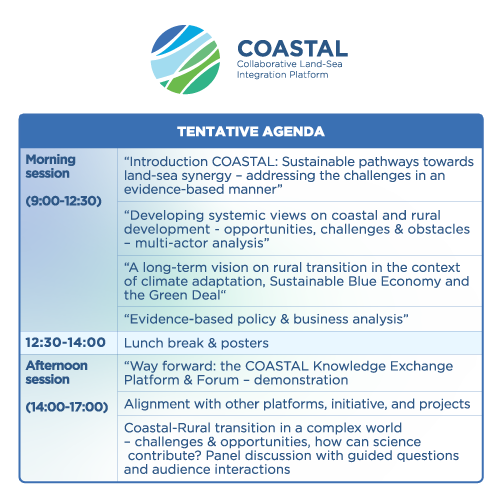 WHAT IS COASTAL?
COASTAL is a research and innovation project, a unique multi-actor collaboration of coastal and rural business entrepreneurs, administrations, stakeholders, and natural and social science experts to formulate and evaluate business solutions and policy recommendations aimed at improving the coastal-rural synergy to foster rural and coastal development while preserving the environment.

WHAT AND WHERE IS THE FINAL CONFERENCE?
This will be our final event open to the public, where we will showcase all the outputs we are leaving as a legacy for people to use! This includes:
Best practices for boosting coastal-rural synergies
Roadmaps for specific regions
Models you can access free of charge
All the data we produced
Policy recommendations
and much more!
The COASTAL conference will take place at Bluebridge, which is at 7km of Ostend train station, in Belgium. A shuttle bus will be provided during the day, riding every half hour, between Bluebridge and the train station. Other possible transportation methods are taxi or the Blue Bike (Bike Rental for one day: https://www.blue-bike.be/en)
Click on the map to open the address in Google Maps.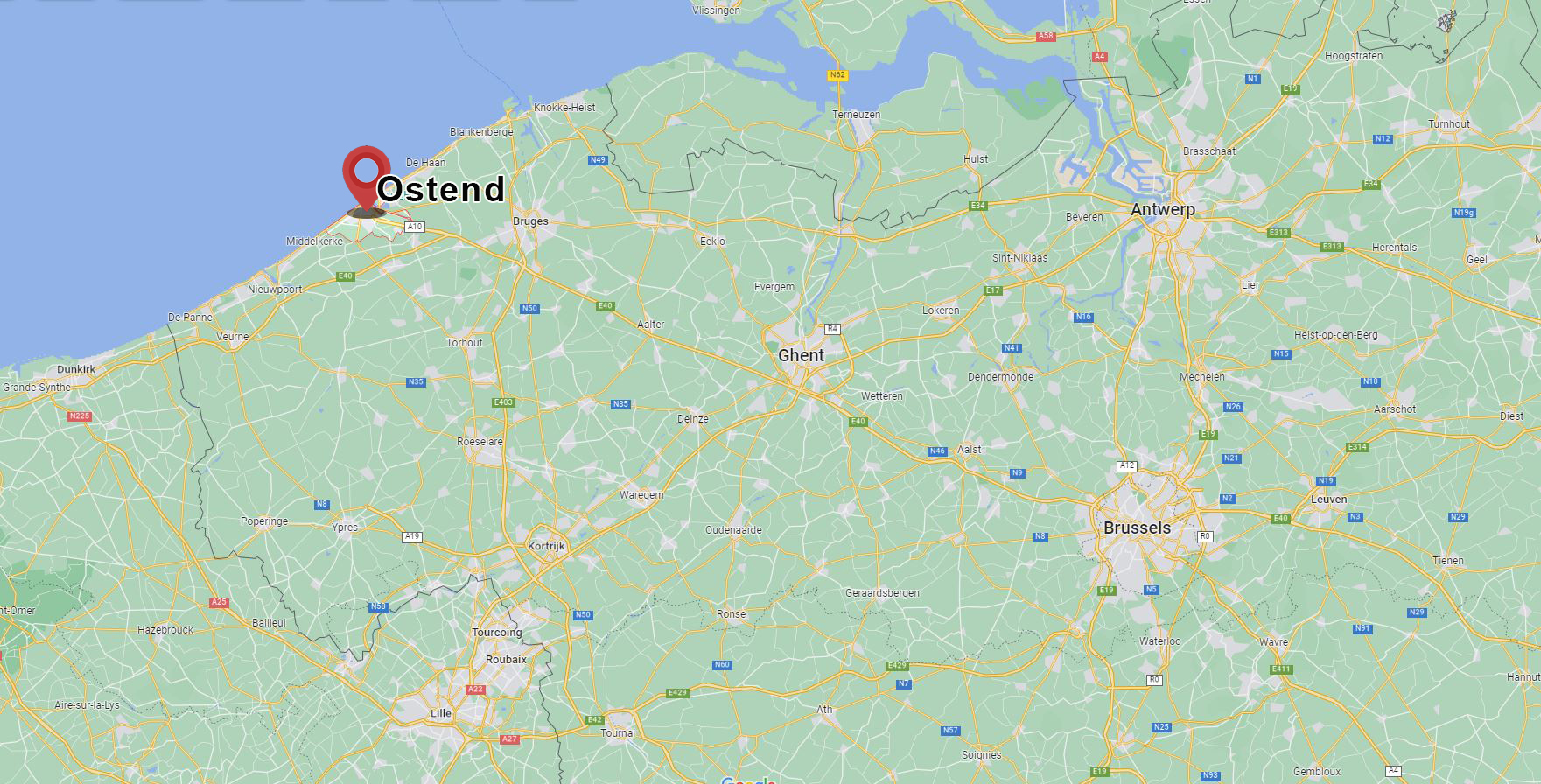 HOW CAN I BE PART OF IT?
Enjoy the presentations, meet the project partners, ask your questions, share your opinion.
You can even pitch your work or project or participate in the panel discussion!
Take into account, that there is a limitation on the number of registrations.
DO I NEED TO REGISTER?
Yes, you do!
Just click here to register for free on Eventbrite.

CHECK OUT OUR AGENDA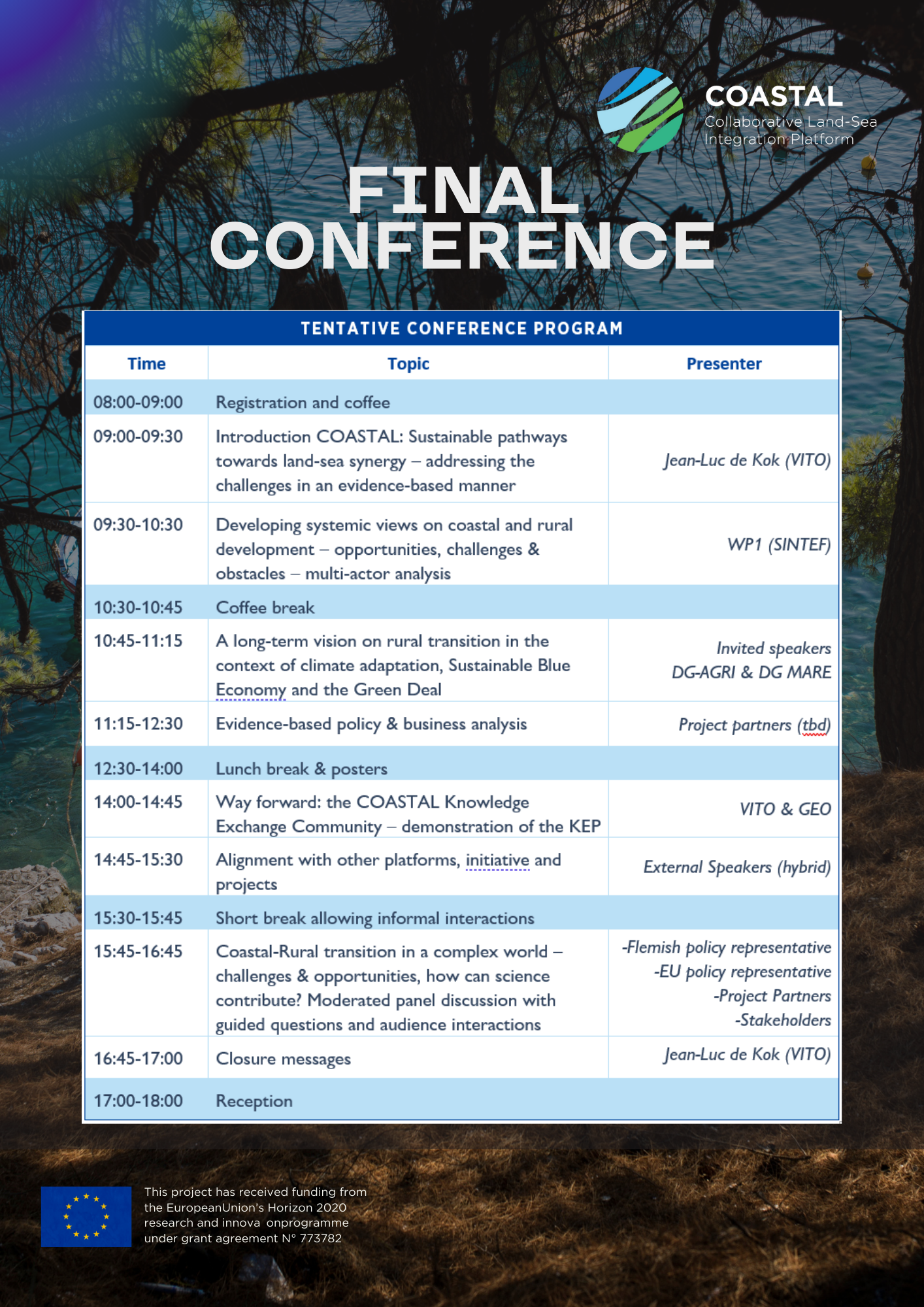 HOW TO GET TO OSTEND?
For people flying in, probably the best combination is flying on "Brussels Airport" (Zaventem) and taking the train from the airport to Ostend.

Ostend has its own airport, but is mostly used by charter flights and private jets.

There is also the airport "Brussels South" at Charleroi, where you can take a direct bus to Bruges train station and from there take the train to Ostend.

More information on transport to Ostend: https://www.visitoostende.be/en/how-get-ostend
WHERE TO STAY?
Ostend has a lot of hotels. The Tourism Office of Ostend has made some arrangements with local hotels. With the following link you can book your rooms:
WHAT TO DO?
Aside the COASTAL Conference of course, Ostend offers many other activities to enjoy (museums, tours, sports, and more!). Visit this link you can find more information:
https://www.visitoostende.be/en

If you have any questions, please don't hesitate to contact:
Jurgen Adriaen: